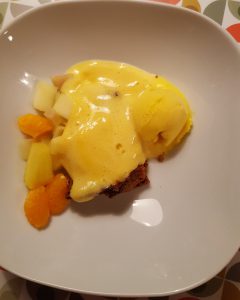 Ingrediënten:
100g     walnuts
170g      dark chocolate
115g        butter
200g      sugar
2            eggs
115g        flour
¼ tsp    Baking powder
40g        raisins
Melt the butter and chocolate in a bain-marie, Whisk the sugar and eggs, Add the Flour, making powder to the sugar egg mix, Add the melted chocolate and butter, Add the walnuts and raisins, Pour into a baking tray lined with olive oil and baking paper, Bake at 175c until cooked through
Allow to cool
 Cook 300g sugar with 300ml water, add 1 shot cognac, (you can flavour the sugar syrup with star anis or cinnamon etc.)
Peel and cut the fruit, poach in the cognac sugar syrup (with a handful of walnuts) until tender, Using some of the cognac syrup brush or baste the chocolate brownie
Sabayon
Separate the egg yolks and add the sugar and cognac to taste
Whisk in a sauteuse pan over a medium heat to form a sabayon
Leave the cognac alone and drink a glass of dessert wine!!!
Plate up
Chocolate buttons
Chocolate, raisin, almond
Melt the chocolate gently in a bain-marie
Spoon into the button forms
Decorate with the almonds and raisins
Allow to cool